VHS transfer services

VHS was the format of choice for millions of consumers and the tape format flourished until DVDs were launched in 1997.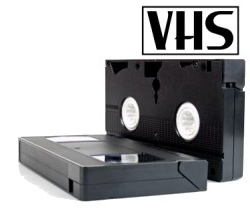 If you have old video recordings on VHS tape such as footage of a family holiday, wedding, christening or other home movie, you should consider converting them to DVD so you can play them on your DVD player, while at the same time preserving your cherished memories for future enjoyment.
DVDs take up considerably less space so they are easier to store and send, and they're more durable than VHS cassette tape. Furthermore, DVD recordings are stored digitally rather than the magnetic analogue format of VHS, so they're more versatile and not susceptible to wear and tear when regularly watched.
VHS tape does not last forever, with incorrect storage, heat and humidity have the potential to ruin your treasured memories, rendering them unwatchable and lost forever.
Transferring your VHS recordings to DVD will bring all those treasured memories back to life. They can all be reborn, and remastered in a modern digital format with our VHS to DVD service.
We can transfer from VHS to DVD, SVHS-C to DVD and VHS-C to DVD.
We are able to convert any region of video tape (NTSC, PAL etc) to DVD.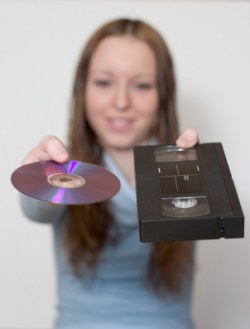 Each DVD is personalised to your requirements. Chapters, interactive menus, background music can all be added.
No matter how big or how small each order is, the same care and dedication is given to all.
VHS to AVI, MiniDV, MPEG or Quicktime
In addition to DVD, we can transfer your VHS movies to AVI, MiniDV MPEG, Quicktime or virtually any other format. The files will be ready to play on your computer, laptop or mac and you can import the files into video editing software to create and edit your own DVDs. You can have the digital video files loaded to an external hard drive.
Please note that we supply hard drives at very competitive prices, just contact us for our prices.
We are able to transfer from or to the American format ie NTSC.
Production
Videos are inspected and repaired if needed prior to transfer
Ultra high quality digital conversion - transfer of your video tape to DVD format. (We use DVD-R as these are compatible with most players)
Professionally scene edited
Image stabilised
Visual clarity enhanced and colour correction
Audio encoded in Dolby digital
Presentation
Scene chapters set every 5 minutes allowing you to quickly 'fast forward' through your film.
Attractive on-screen DVD menu with 'motion thumbnails' allowing easy navigation of your film.
Personalised full-colour DVD case and cover with title and image 'grabbed' from the video.
Full colour printed DVD disc with title and image