Photography scanning and digital transfer
Give your old photos, negatives and slides a digital makeover.
If you're like most people, the images of your life are fading away stored in shoe boxes under the bed, tucked away in albums and slide carousels.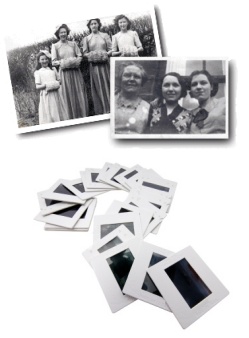 Most of the photo paper and inks used historically were not archival quality, and as a result, many photos show signs of fading and colour changes after only a few years. Storing photos in loft spaces or basements or allowing photos to be exposed to direct sunlight will also contribute to the deterioration in image quality.
Quite often people don't realise there is a problem until they take a look at their photo collection after many years of storage.
Our restoration service will restore your photographs, negatives and slides to their former glory and preserve them for years to come.
With our scanning and restoration service each image gets a high resolution scan with professional editing, including cropping, colour correction, red-eye removal, dust and scratch removal.