Cine Transfer Process
Sending us your films
We recommend using Royal Mail Special or Recorded Delivery to send us your films securely. The use of a padded envelope or box will protect your films in transit. Only send us your films once you have received a quote from us.
Alternatively, you can drop your films off at one of our business premises.
Checking for damage, repair and cleaning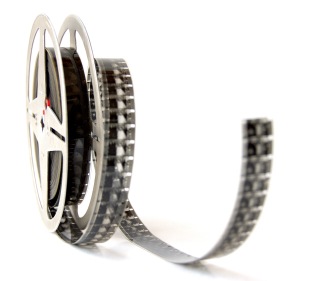 When we receive your films we begin by inspecting them for signs of damage.

Any damage is repaired (replacing old joins and cutting / splicing film as necessary) and the film is then processed through a cleaning machine.
For an additional fee, films can be cleaned using an ultra sonic cleaning machine.
Scanning, colour correction and digital enhancement
The film is then run through a Thomson Spirit Datacine machine to scan the film and produce digital output.
The video signal then passes through the digital vision noise reducer to erase dirt sparkle and generally improve the quality of the footage.
The next phase is to correct the colours using Pandora Pogle Revolution - a fully loaded primary & secondary colour corrector. This ensures a quality restoration of colour balance over each full frame of your film.
Our experienced technicians know from the era the film was shot if it has gained strong colour cast over the years. eg 1970s film stock often has strong magenta because of the chemicals used in the manufacturing process back then.
There are three levels of colour correction:
One light transfer - eveything available on the film gets transfered including areas of shadow - true transfer from film to video. Included for all transfers.
best light transfer - more sophisticated transfer with varying levels of colourising
full grade transfer - putting in blue skies e.t.c. - professional option
Sound transfer
Optical sound - this is where the sound is stored on the same cine film as the video footage.
Magnetic sound - 16mm or 35mm - separate film to the video and the sound is synchronised with the video by our technicians.
Producing the DVD
After your films have been scanned, processed and digitally enhanced we author them to an attractive themed DVD with an animated front page menu.